Three Jewish Vets Recommend Universal Military Service
By Donald H. Harrison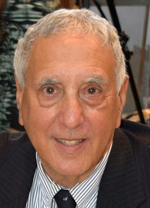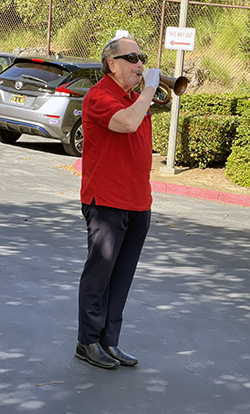 SAN DIEGO — At 11:11 a.m. on November 11th, or what might be written as 11:11/11/11, former South African non-commissioned officer Norman Kort blew taps on a World War II bugle that he had purchased at an estate sale in England. As he did so, David Schlichtman raised the U.S. flag at Tifereth Israel Synagogue in honor of America's Veterans Day. The occasion marked 104 years since the November 11th, 1918 Armistice that brought World War I to a close.
More than a dozen Navy and Army veterans who belong to the Conservative congregation shared memories of their military service, with three of them — Stephanie Siegel, Bill Friedel, and Bill Sperling — endorsing the idea of instituting mandatory universal service in the United States. The event was sponsored by the synagogue's Men's Club, whose members wear special red shirts.
Rabbi Mathew Marko in a short address prior to the ceremony commented, "In Judaism, freedom implies a much greater obligation than just 'free to be me and you are free to be you.'  The people who have sacrificed and served make it possible for us to maintain our freedom. That freedom, I think, comes with a responsibility on all of us, whether we are veterans or not to use our freedoms for the good of everyone. I have never served, but I thank you all for doing so. God bless all the people who sacrificed their time and made sure that we can still live in the greatest country in the world. With all its problems, with all its warts and pimples, it is my opinion this still is the greatest country on the face of the earth, and you are a large part of it. Thank you."
Siegel, who served in the Navy Hospital Corps for more than 20 years, commented that even before she had enlisted, "I was an advocate for universal mandatory service."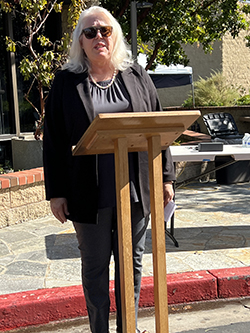 "I know that this is politically charged," she added.  "This would include men and women and people with disabilities because they still bring knowledge, skills, and abilities. And it could take in AmeriCorps, Peace Corps, planting saplings in the Sierras with the Forestry Service; there are a lot of things that people can do for our country and contribute."
She said the idea of universal service is at least 2,000 years old.  She quoted the ancient Greek biographer Plutarch that "rich as well as poor, plebians and patricians, should be mingled again in the same army and in the same camp and engage in one common service for the public. It would mutually dispose them to reconciliation and friendship."
Bill Friedel, who was an Army doctor with the rank of Captain during the Vietnam War, commented that "I am also a big fan of universal service, at least a year or two for everyone. To me it is a 'no-brainer,' and it would be wonderful for our country." He added that "the bravery and fortitude of our fighting men is unbelievable, and it is inspirational."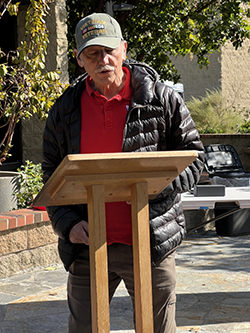 Bill Sperling, who was a Navy doctor and a Lieutenant Commander assigned to the 1st Marine Division during the 1960s, echoed Siegel and Friedel. "I feel very strongly that everybody should spend time in the military, like they do in Israel," he said.  "I think that it changed your quality of life." He said his late brother-in-law "was lost, could not find himself; he went into the Navy, and it made a different person out of him. He came out a mensch and had a great job, so I strongly favor everybody going into the Navy."
Kort, who blew the old British bugle, said that in South Africa –from which he immigrated to become a citizen in the United States —  military service was "100 percent call-up."
"I served in 1967 for nine months continuous training and ten years for non-continuous training, where we did camps," he added. "I served in an antiaircraft battalion."
Other speakers briefly related anecdotes from their military service during the gathering that lasted a little more than a half hour.
*Donald H. Harrison is editor emeritus of San Diego Jewish World.  He may be contacted via 
Visit to the Barona Museum and Cultural Center
1095 Barona Road, Lakeside, CA 92040
Wednesday, December 14th, 1:00 p.m.
Meet at the Museum entrance at 1:00 p.m. The museum has a new film documenting the creation story of the Kumeyaay People, in addition to other interesting exhibits. There is no admission charge.
Visit the museum's website for more information about the museum.
Send us an email here if you are interested in joining a group to visit the casino in the morning and/or having lunch there before we all meet at the museum.
Brunch and Lecture by SDSU Professor Emeritus Laurie Baron:
The "Safe Haven" Emergency Refugee Camp in Oswego, NY
Sunday, January 22nd, 11:00 a.m. - 1:00 p.m.
On August 5th, 1944, nearly a thousand Jewish refugees from Europe arrived in Oswego, N.Y. To America's shame, they were the only refugees taken in by the United States during World War II. The refugees were placed in an internment camp at Fort Ontario to await the outcome of the Second World War.
Men's Club members are invited to come and enjoy a simple, free brunch, followed by a talk by Laurie Baron about the history of the camp. Click here to RSVP so we can plan the food. If you are not yet a member of the Men's Club, click here to join. In addition to this event, your membership entitles you to free admission to the Men's Club Membership Dinner in March 2023.
Men's Club Shabbat
Shabbat Terumah
Saturday, February 25th, 9:30 a.m.
Send us an email here if you are interested in taking a part in leading the service or reading from the Torah or Haftarah. If you need help in learning to do this, or need someone to help you practice, let us know.
Yom HaShoah Memorial Gathering
Monday, April 17th,  7:00 p.m.
Every year, the Men's Club invites TIS members to gather for an hour on Yom HaShoah in memory of the Six Million. The nature of the gathering has varied from year to year.
We'll announce the program for this year's gathering closer to the event.
Israel Independence Day BBQ Picnic on the Patio
Wednesday, April 26th, 5:00 p.m.
Mark your calendar for this informal gathering in celebration of the State of Israel. Men's Club and Sisterhood collaborate to present this event for all TIS members.
Ongoing Events
Daily Minyan – Men's Club members have an opportunity to see each other in person or on Zoom when they attend the Sunday through Friday morning minyans. Click here for details.
Sunday Bike Rides – Once each month, interested Men's Club members join anyone else who wants to come for a group bike ride. Experienced teenagers are welcome.
Plan to join us on the following dates:
December 25th, 2022
January 29th, 2023
February 26th, 2023
March 19th, 2023
April 16th, 2023
May 28th, 2023
June 25th, 2023
July 23rd, 2023
August 20th, 2023
September 10th, 2023
We will meet up in a designated parking lot at the start of our route at 10:15 a.m., unless otherwise announced. These are slow, social rides. We stay together or stop to let slower riders catch up. Most of our miles are on level, vehicle-free bike paths. Riders use a variety of bike types. Distance usually is between 8 and 12 miles, usually with an opportunity to use a restroom near the half-way point. Everyone with biking experience is welcome.
To get the details for the rides coming up, and to get on the mailing list for ride reminders and special instructions, send us an email.
TISMC Board Meetings - Our Board usually meets on the second Tuesday of the month at 7:00 p.m. Any Men's Club member may come to any of these meetings. It's a good way to get to know our Board members better, and to get in on the ground floor of planning and getting ready for events. Email us to find out whether the next meeting will be in person or on Zoom.